Hello! I'm an author and photographer of books, articles, and blog posts for publications like Men's Journal, Outside Online, Mountaineers Books, National Parks Magazine, Blue Ridge Outdoors, University of Nebraska Press, Duct Tape Diaries, Falcon, Adventure Cyclist, and others. For many years, I was a contributing editor at Canoe & Kayak magazine.
Over the years, I've become a particularly slow backpacker… a where's-he-going? raft guide… a seems-to-like-rivers-more-than-rocks geology student… a can-someone-else-do-the-math-part? river researcher… a you-call-that-stable? kayaker… a somewhat intelligible writer… a that-looks-even-more-unstable mountain biker… a let's-put-him-in-the-attic college teacher… a surprisingly slow skier… an is-this-thing-on? photographer… a shaky-legged paddleboarder… a gonna-look-this-up editor… an even shakier-legged packrafter.
By strange quirks of chance, I've chased adventures, jobs, degrees, and affordable living situations—with my wife—across the entire U.S., roughly along the 37th parallel. Originally from California, I've spent extensive time living in and exploring the American West, the Ozarks, the Southeast, and parts abroad. Currently, I'm splitting time between the east coast and western U.S., always searching—often for misplaced gear. If you've seen my latest pair of lost sunglasses, please message me.
Official-sounding bio: Mike Bezemek is an author and photographer of books, articles, and blog posts for a wide variety of publications, including Outside Online, Men's Journal, Mountaineers Books, National Parks Magazine, Blue Ridge Outdoors, Duct Tape Diaries, Adventure Cyclist, Red Bulletin, and more. For ten years, he taught writing courses at Washington University.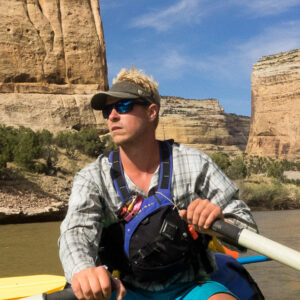 Special thanks to the following organizations and companies for the equipment and support that makes my work possible! Pyranha U.S. for their state-of-the art whitewater kayaks, which I've been using for over ten years, including the Burn, Fusion, Jed, and Machno. Kokopelli Packrafts for ultralight and pack-able boats–like the Nirvana–capable of challenging whitewater and remote floats. Northwest River Supplies (NRS.com) for pretty much everything they make. Five Ten shoes which keep my feet glued to the ground or my pedals, particularly the Water Tennies and Freerider Pro, especially when I'm toting my camera.
Speaking of which, a huge thanks to Watershed Drybags, for bomb-proof bags that keep my electronics safe through everything from class V rapids to torrential rain storms, including the Ocoee, Chattooga, Colorado, and Futa. Rite-in-the-Rain for making field journals, like #393, that can actually survive while I'm in the field. Revelate Designs for their innovative and top-quality bike-packing bags. HydroFlask for keeping my water (not my beer!) cold out there–I'm a 40-ounce guy, myself. Nemo Equipment for their ultra-light tents, like the Hornet 2p, and other adventure equipment. Eagle Nest Outfitters for their remarkable hammocks, including the ultralight Sub7 and the SingleNest. Osprey Packs, like the Raptor 14, Escapist 25, Talon 33, and Aether 70, for letting me carry everything around on bike and foot. Prana clothing for the freedom of movement with the Stretch Zion shorts and pants. And the St. Louis Regional Arts Commission for their generous funding of this website and other professional development.
Otherwise, two great pieces of advice I received over the years were 1) if you're going to be a writer, you need to know how to find the free food, and 2) if you're going to be a writer, you need to have as many things going at once as possible. For that reason, please know that I have joined various associates programs, including Amazon, B&N, and IndieBound, meaning I receive a small commission on any purchases you make after following the links on this site. Thanks!