Exploring the Green and Colorado Rivers
On May 24, 1869, John Wesley Powell and nine crewmen in four wooden rowboats set off down the Green River to map the final blank spot on the U.S. map. Three months later, six ragged men in only two boats emerged from the Grand Canyon. And what happened along the rugged 1,000 river miles in between quickly became the stuff of legend.
Today, the JWP route offers some of the most adventurous paddling in the U.S. Across six southwestern states, paddlers will find a surprising variety of trips. Enjoy flatwater floats through Canyonlands and the Uinta Basin; whitewater kayaking or rafting in Dinosaur National Monument and Cataract Canyon; afternoon paddleboarding on Flaming Gorge Reservoir and Lake Powell; multiday expeditions through Desolation Canyon and the Grand Canyon; and much more, including remarkable side-hikes to ancestral ruins, historic sites, and unexpected waterfalls.
"A must-stow companion for beginning paddlers, seasoned river runners, and armchair adventurers with dreams of exploring these storied rivers. Bezemek successfully weaves essential planning info with a vivid narration of the 1869 expedition and interviews and episodes from his own worthy pilgrimage down the Green and Colorado. The result is informative and inspirational, awakening paddlers of all levels to a deeper history and wider scope of opportunities along the JWP route."

—Dave Shively, editor of Canoe & Kayak Magazine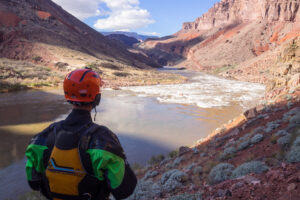 Explore the JWP route with:
Practical information for planning your own trips, joining guided trips, obtaining permits, hiring shuttles, renting equipment, and visiting classic sites.
Stunning photos and detailed descriptions of what to expect, including river difficulty and challenges.
Overview maps and GPS coordinates for access points along the route.
Details on further reading, relevant museums, and off-river sites.
Interviews and stories about modern explorations along the route, plus a lively retelling of the dramatic 1869 expedition.

Paddling the John Wesley Powell Route comes out October 1st 2018 and is now available for pre-order from local bookstores,  Barnes & Noble, and Amazon.
"150 years after John Wesley Powell's Green and Colorado River expedition, Mike Bezemek does an outstanding job retracing the journey in a clear and comprehensive river guide. The Major would have given his left boot for a copy of this book."

—Tom Martin, guidebook author and co-winner of a 2007 National Outdoor Book Award.