Mike Bezemek's writing and photography can be found in Canoe & Kayak Magazine, Bull Magazine, The Morning News, Hobart, St. Louis Magazine, American Whitewater, Big Muddy, and elsewhere.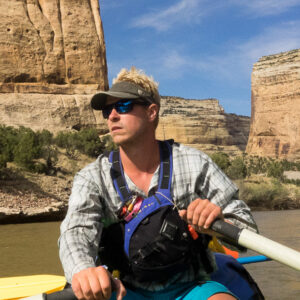 He authors two monthly columns, Bull On Tap–a series of satirical reviews of "shitty" beers, and Regular Paddler, Remarkable Waters, a series of personal essays and images related to paddling sports. A guidebook, Paddling the Ozarks, is forthcoming May 2017 by FalconGuides of Globe Pequot Press.
For ten years, he has taught college writing courses, primarily for Washington University in St Louis, including Travel & Outdoor Writing, Adventure Writing, Writing Blogs & Columns, Magazine Writing, Multimedia Storytelling, Narrative Structure & Story Development, Screenwriting, and Writing Short Films.
Special thanks to the following organizations and companies: The St. Louis Regional Arts Commission for their generous funding of this website and other professional development; Pyranha Kayaks for state-of-the-art equipment support;  Rite-in-the-Rain for making field journals that actually survive in the field; Nemo Equipment for lightweight tens and other adventure equipment; Eagle Nest Outfitters for their remarkable hammocks; Revelate Designs for their innovative, top-quality bike-packing bags.